HISTORY: THE STORY OF PROPHET EDWARD OKEKE (a.k.a Eddie Nogu, Okara mmadu Okara Mmuo) #BBNaija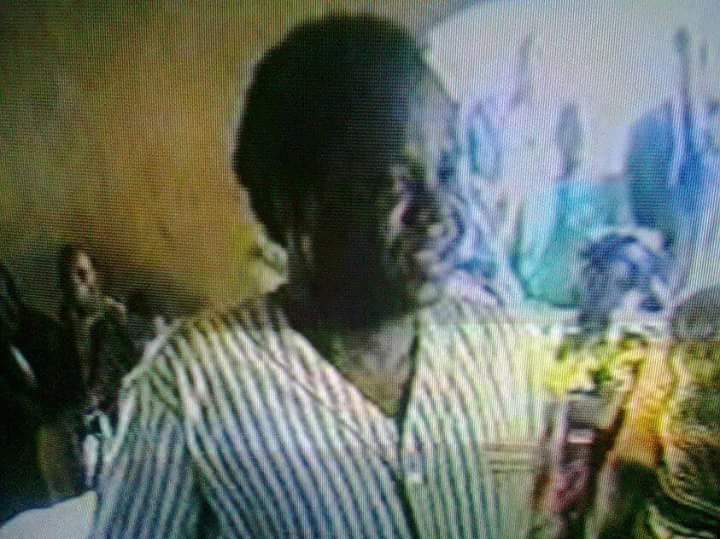 Eddie "Nawgu" Okeke's alias was "Alusi N'eje Uka" this when translated to the English language means "The Diety Who Goes To Church". Prophet Edward Okeke (a.k.a Eddie Na Nogwu)was a Nigerian self-Proclaimed "Prophet of God" and Occult Practitioner. He was popularly known in the mid-1990s as "Eddy Nawgu" amongst the igbo speaking People.
His nickname "Nawgu" came about because he was from the Nawgu community, a town situated in Dunukofia Local Government Area of Anambra State, Nigeria. He was a legend in the Word of crime in Anambra State, Nigeria. he committed so many atrocities during his life time. Rumor even has it that,he 'buried alive' able bodied young men/women (human beings) inorder to do his foundation in his house and around his fence.Although he was later Killed by the Bakasi boys and his house and church were burnt down. Let us look at his Tale empirically.



Early life of Edward Okeke (1957 - 9th Nov 2000) Prophet" Eddy Nagwu was born in Nagwu, in Dunukofia Local Government Area of Anambra State, to Ozo and Mrs Nwoye Okeke. His wife's name is Joyce Okeke, and together they had eight (8) biological children.




Beginning of His Ministry: Not much is known about his growing up,but around him being 29years Old, he Claimed to have been 'Suddenly Visited by God",and was given the ability to "see" and "perceive" what the ordinary human eye Or other four senses could not intercept/perceive.




Subsequently Eddy Na Nogwu built a church-like structure and named it 'Anioma Healing Centre' he stated that the reasons for creating the 'Anioma Healing Centre' was to heal the sick people in the community and restore hope to people who had thought previously that .... their existence on earth was meaningless and was without bearing.The location of the 'Anioma Healing Center' was at his compound in his community at Nawgu, Anambra State. But that wasn't exactly the case. After a few years, People started speaking of his illicit activities.




For Instance,In 1990, worshipers in his Church,during one of his services were told to bless two men who the prophet had prayed for previously for breakthrough (it turned out that the 2 guys had successfully transported hard drugs to Europe without being caught).




By Mid 90s,Eddy Nagwu became more visible, daring and pronounced. he became friends with almost all the questionable millionaires of that era (Eze-Ego inclusive), they all paid him homage and had him perform tasks such as house openings, child dedication etc for them.




He was well known by most Military Administrators of the time,most of them visited him at his healing centre where he "Prayed and Fortify" them. He was known as "Alusi n` eje uka",meaning The deity that goes to Church. and Okala Mmadu, Okala Muo, meaning Half man,Half Spirit".




His Popularity/Recognition: During the mid-1990s in Onitsha, Anambra State, Eddie Nawgu had started to grow famous, as he had some how managed to gather a good percentage of the community as followers, who thought of him as a charismatic religious leader and it also seems as if the "Prophet Eddie Na Nogwu" has kept to his word, because tales of how he had enriched and bettered the lives of various individuals began to spread.Rumor has it he made lot of people rich. This now gave his more popularity,recognition and followership.




Prophet Eddie Na Nogwu's Controversy: In the year 1999/2000, Eddie, the self-proclaimed prophet of God had become a person of interest for numerous crimes committed not only in his community, but across Anambra state at large.




As a result, he had begun to attract the attention of the Bakassi Boys; a vigilante security group which was set-up and spearheaded under the tenure of Chinwoke Mbadinuju, former governor of Anambra state, as anarchy had soaked deep into the land.




The Bakassi Boys weren't like any other vigilante group because they supposedly harnessed very great "metaphysical powers" to aid them in intercepting thieves and law breakers in general.




Eddie Nawgu had been accused of kidnapping, aiding & abetting infamous criminals, rituals involving use of human body parts, i.e. (the human skull) illegal possession of firearms and human sacrifice. This took him to the top of their "most wanted list".




Prophet Eddie Na Nogwu Sorcery: Eddie na nogu made Protective Staffs, walking sticks, Charms etc for most Politicians, Wealthy/Highly placed individual in the Society, Patrons of his Church etc. Those Staffs were said to be imbedded with Mystic Supernatural powers.




By 1999 and the birth of democracy, the Anambra State government 'Governor Mbadinuju, had set up the Bakassi Vigilante Group, with a single mandate to fish out criminals, sponsors of criminal gangs and men of questionable characters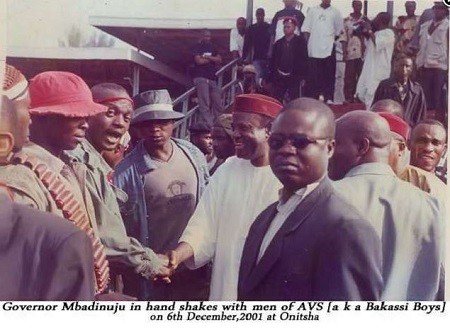 The Bakassi Boys who had been credited for being able to apprehend every defaulter of the law with minimal effort due to their supposed "metaphysical abilities (Charms/Juju etc)", had come to meet their match,when they failed 13 times in attempt to capture Eddie Nawgu.
And when at their wits end, they thought it wise to invite their supreme leader named, "Ngwuro" to help in the capture of this menace. So the Bakasi boys called Ngwuro (Cripple) to and help them in capturing Prophet Eddie Na Nogwu.
Eddie na nogu's Capture: The capture of Eddie was indeed difficult because the self-proclaimed "Prophet" was, as reported by the Nigerian media; a sorcerer who allegedly could defile the rules of Physics and had the ability to teleport;
that is to say; he supposedly could instantaneously move from a point A to a point B regardless of distance and also could achieve this feat without physically walking. As a result of this, his apprehension was tagged the most difficult for the vigilante Bakasi boys.
Eventually Captured On November 4th,2000: Not until the intervention from the leader of the Bakasi boys known as "Ngwuro",who was able to strip the Prophet/Sorcerer Edward Okeke of his alleged mystic abilities, and were able to finally capture the self-proclaimed Prophet of God.
Police Demanded for him to be given to them: Eddie Nawgu, when apprehended on the 14th trial by the Bakasi boys,was taken to their base,for interrogation. His release to the Nigerian Police was vehemently Opposed,as the Bakassi boys argued the police could easily be influenced.
A lot of High-Profile Government Officials,Business men/women and sitting Governors were said to have pled his release, including a former Nigerian president and a sitting West African Warlord at that time. This was reported by the head of the vigilante group; Mr.Ngwuro.
Albeit,the names of those officials were never mentioned, it wasn't impossible that this sort of request was made by the elite individuals in the Nigerian society,because Over the years, Prophet Edward Okeke had become closely associated with a good number of influential persons.
His Confession: During his stay as prisoner of the Bakassi Boys, he confessed and acknowledged being guilty of Human Sacrifices. He acknowledged aiding several Criminal activities and fortified many fraternity groups (especially the red beret boys-Bargas) and Popular Politicians
he also confessed to a lot of sordid actions, claiming to be particularly gifted in making potent charms capable of aiding its users to disappear in awkward situations, for protection he made concoctions by killing 3-day old babies and bathing the subject with the remains.
For wealth/Money, he would sacrifice a pregnant woman and the developing foetus, and the total number of People he Confessed to have killed for these purposes, where pegged at 93, While, 16 children missing from a Maternity Hospital in Onitsha, were traced to him.
He was also alleged Confessed that,both his power and TB Joshua's power are both from the same Spiritual Source. He went further in saying that,they should also kill TB Joshua in the west for peace to reign in Nigeria, Or else they will Only be removing half of Nigeria's problem.
Prophet Eddie's Last Request to the Bakasi boys: When he was about to be killed by the Bakasi boys, Prophet Edward Okeke said "unu egbukwalam egbu Kama tunye mu Na mmiri Na ndu. Mmiri kam si bia, mmiri kam ga esi na"...
Meaning: "you people should not kill me, rather throw me alive into the river. i came from the waters,and I will go back to the water". Of course the Bakasi boys called his bluff. They declined Prophet Eddie's request of being thrown into the river Niger.
And then Prophet Eddie told the Bakasi boys, " gwanu ndi nine m'nye mkpolo ka Ha wetekwalu mu mkpolo mu" Meaning: "Tell everyone I gave a staff/walking stick/Charms etc, to to return back the staff to me".
He went further saying, "tell everyone i gave a Staff,Stick Or Charm, to go and threw it into the river Niger. During the Staff/walking stick saga,a lot of rich men,Politicians, famous men and women started running helter skelter looking for ways to return their mkporo (Staffs).
Prophet Eddie also gave many bus drivers staff for protection, and when they didn't return it, they died via motor accident. Rumour has it that, some of the People he gave Staffs/walking Sticks, actually did return the staff/Walking Sticks back to the man before he was killed.
His Death: While Prophet Eddie was in the Bakasi boys prison, his hair was shaved,and because it, he couldn't sleep throughout his stay in the Bakasi boys prison. he was eventually Beheaded, then Cut into pieces and burnt, by the Bakasi boys at Ochanja market square in Onitsha.
His wife Joyce Okeke, was present when her husband was arrested by Bakasi boys, this is her Account: "On 4 November 2000, at about 4.00 a.m. I was asleep, Suddenly I heard a loud bang on the bedroom door. Someone said: "Open this door or I'll break it down!" I ran to the door.
My husband was sleeping. There was a second bang. I opened the door. I saw a lot of men with pump action guns and matchets. They said: "Where is your husband?" I asked them who they were. They pushed me aside. I called my husband to wake up. They went and pulled him from the bed.
He was asking them: "Who are you?" They said: "We are Bakassi Boys. It's a government order." There were about forty of them and more outside. My husband asked them what they wanted. They were hitting him. They dragged him outside.
One Bakassi was standing at the door with a gun. He told me to go outside and cocked his gun at me. They were still beating my husband. Another group came in and asked me to show them my husband's room.
There was a boy in front of them. I recognized him as a local boy, an armed robber. He had previously assisted people who were after my husband. They turned the whole room upside down. The boy was doing it; the others were watching.
They said: "Where are your husband's guns?" I said: "Which guns?" There was one double-barrel gun there,but they were asking for pump-action guns. I told them we didn't have any. One of them raised his matchet and said: "I will cut off your head if you don't give us those guns."
They found nothing. He said: "Turn your back and I will cut off your head." He charged towards me with his matchet raised, then put it down. They said: "We'll take you with your husband and if we don't find what we want, he's finished."
I went with them and asked a girl to close the door. One of the Bakassi asked me if I wanted to show them anything. I said: "No, there are only children in there." The children were scared so we had locked the door.
The Bakassi wanted to shoot. I said: "No, there are children there." He said: "Which children? The ones you sell?" I asked the children to open. The Bakassi just looked in and left them. Some were behind me, some were in front. I was just wearing my sleeping clothes and wrapper.
My husband was just wearing his shorts. They had used his shirt to tie his hands. Outside, I saw Bakassi everywhere. They were wearing black, with some red material tied on their heads, hands and guns. They had made people in the compound lie face down outside.
A car and a jeep were parked outside. They told me to give them the keys and open the gate. I called the boy who locks the gate but there was no answer. One Bakassi moved in a flash and slapped me across the eyes very hard.
I fell behind the chair. He pulled me from behind with my wrapper. He was trying to strip me. I pulled the wrapper tightly from the front. The Bakassi outside were calling them to come out again. They ran off, taking my husband and fifteen other people, all young men.
They took three vehicles. Little did I know they were going to my father-in-law's compound. After they left I heard gunshots for about an hour. Later, I heard that they had picked up my husband's father, elder brother, and another relative.
At about noon, I was sitting in the armchair when I heard people outside screaming. They ran in, saying: "The Bakassi have come back!" I went out and met them at the gate. One had a belt of cartridges on one shoulder and a gun.
He asked for the particulars to our cars and said: "Your husband said to tell you to give us those guns." I said: "Which guns?" He told me not to pretend, but I said it was not possible as he didn't have any guns. They took the whole file of car particulars and the keys.
They took five vehicles. There was no clear command among them, but there was one man they called "Boss. Before they left, they said they would search the whole compound for the guns and I should go with them.
As we went round, they said: "This land is too big. It is bigger than a governor's." They saw a mentally-ill boy in the compound. They said: "Your husband is making people mad." The boy's mother came and explained that it was the boy's condition.
They said that was not true, that my husband was turning normal people into mad people. I then sent someone to report the matter to the police. And i.wrote to the Governor and State Commissioner of Police. But nothing came out of it.
Some of those detained with Eddie Okeke confirmed that the governor of Anambra, his adviser Chuma Nzeribe, and the chairman of the Bakassi Boys, Gilbert Okoye, all personally visited the detention center while they were held there.
After the death of Eddie Okeke, the state government set up a panel of inquiry into the case. The panel had no legal status, no power to require further action by the authorities, and its findings were never published up till this very day.
CONCLUSION: The Story of Prophet Edward Okeke should serve as a warning to all todays False Prophet, that "ONE DAY, THEY SHALL BE EXPOSED". It doesn't matter how Perect they have perfected their Craft of deception, Oneday they shall be Exposed by Almighty God.
And we should be careful with how we move from one Pastor/Prophet to another, all in the names of "MIRACLES. We might not know the source of their power. Don't be carried away by the Miracles of so many Herbalists (now calling them selves Prophets/Pastors).
And those of you seeking for Spiritual Charms,know that "THE DEVIL HAS NO FREE GIFT", and there is No way the Story will End Well for you.
Sources: Wikipedia, Punch Newspapers, Vanguard Newspapers
Credit To Nzekwe Gerald Uchenna (NGU)